Introduction
A lot of employees are definitely unhappy. Many of them are angry with their bosses or colleagues or both. Some do not like their working environment. But did you know that fifteen (!) percent of employees are bored to death at work? That is terrible if you realize that you have to be there 30% of your time.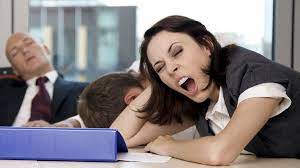 The symptoms of a bore-out bring or call recognition to the conscious mind in many people and can cause you to be in a state of nervous excitement or anxiety, such as burnout. Further down this article, I will give you 10 tips to prevent or conquer bore-out.
And if you might be fed up with the corporate structures anyway, please check out the end of this post for your perfect way out.
Here is the issue
"Why am I dog-tired when I come home after a day of doing nothing? Why can't I concentrate? Maybe I have ADHD? I was wondering, but now I know I had a bore-out." Peter (34) had for years too little to do at the job where he developed software. He found the work he did routine and unchallenging. A video on YouTube, based on the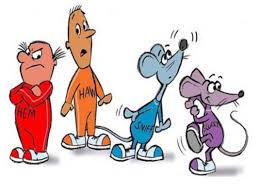 bestseller Who Moved My Cheese, opened his eyes. 
Two mice and two men go into a maze in search of cheese. The four find a cheese station and while the men wallow in the luxury of excess, the mice start looking for new cheese. When the stock is exhausted, one of the men refuses to adapt to the changed situation and goes in search of new stock: stamping his feet, he calls for his old cheese. Peter: "That man was me: I held on to what I had because I did not dare to take the step into the unknown."

Bore-out due to fear and uncertainty
People with a bore-out are stuck in their jobs. They accept boredom and sluggishness as a consequence of having security. This confirms the idea that boredom is related to fear and uncertainty. According to experts, employees who are prone to burnout have more self-confidence and are perfectionists, which means they can overestimate themselves and take too much on their plate. 
Those who are threatened with a bore-out, on the other hand, have low self-esteem; they underestimate themselves and fear challenges because they don't want to fail. They see that people often find themselves trapped in a situation in which they are not happy, the so-called golden cage. "If the salary, the conditions, and the colleagues are nice, it is difficult to distance yourself from them."
Anyone who has a bore-out faces an additional problem. Endless boredom takes its toll: employees feel tired and sluggish, feel guilty – the boss pays a salary every month and they do nothing for it – and are insecure (is it just me that I have nothing to do?). Not the right starting point to look for a solution.

Overwhelmed by bore-out? Take immediate action!
The longer the boredom lasts, the harder it is to reactivate yourself. It is highly recommended to take immediate action at the first sign of boredom. This is because you're already in the danger zone if you spend more and more time on the Internet during work hours, your mind wanders and you spread work throughout the day. The search for more exciting work starts with asking yourself questions like What's going on? Is there some aspect of the work that repeats itself too often? Are the colleagues boring? Or is it the way the work is organized? Is it a temporary situation or a continuous process? What do you like about work?
Change?
It helps to create a moment to examine the situation and yourself. At a higher level, you see people taking a sabbatical for it, but you can also take a few days off.
Looking for new activities in your private life can help you get moving again. The energy from a drama class, volunteer work, running, or playing in a band can be used to change the situation at work. If you have a bore-out, you often do not get further than the couch and the television after work, and if you have trouble changing that yourself, make an appointment with a friend. A big stick always works better than an appointment with yourself.
Ten  tips to recover from your bore-out
Imagine that you don't change anything. How will you be in ten years? And do you want that? Does this idea scare you? Very good, so take action.

Also, do the opposite: imagine what you could achieve if you did change something. Talk to your boss or good colleagues or change your working environment completely. Leave the department or company, if necessary.

Get inspired. Find people who have good ideas, go to seminars, training courses, read inspiring books. You will see that everybody is willing to help you.

Set small goals: if you succeed, it will motivate you to move on. Turn the switch in your head and say that from now on you will be on time for work or you will help some colleagues. You will get noticed.

Keep a success diary and read it every night before going to bed. It increases your self-confidence and motivates you to pursue more successful experiences. Please note: it is not only about successes at work, but also performance in the field of sports, voluntary work, health.

Find a role model: successful people often have an example. See how he or she does things and ask him or her as a mentor if necessary.

Keep learning. Every time you learn something new, you are stimulated to work with it. A course or training does not necessarily have to be in your own field, but it does have to touch on it. The internet can be a great help.

Find habits that help you move forward. Listen to your favorite music, drink your favorite drink or go to the gym more often. Exercise is a great remedy for being depressed.

Take the first step. And do it now. If you wait longer than 24 hours to execute an idea, it will never happen. You still might find out what you are really capable of.

Take a perfect way out and start your own internet business and here is how to do that:
Becoming your own boss
More and more people have become entrepreneurs and still, more would like to become their own boss. There is an easy way to start your own business with the help of the internet and become your own boss. Anyone of us can do it, you just need to be told how.
The internet contains a ton of possibilities, yet you need to find the best, honest and scam-free options. I can help you in the right direction and point you to the best internet business support program right now. One of the most popular business models is affiliate marketing. I will explain to you in short how this works.
Affiliate Marketing
You will need to create a website and the program I will be proposing will take care of that. Then you will choose your website niche (a topic you are going to write about). There are millions of niches, but you should pick your topic from one of your hobbies, passions, or interests. As soon as you have that, you can start building out your website with articles relevant to your niche and with the aim to help people. Subsequently, people will begin visiting your website and as you build further, you can start promoting products relevant to your niche.
You will find these products on the net with various merchants and you will look for the ones with affiliate programs. You apply for their program and as soon as accepted, they will give a link to their products for you to be promoted. Your audience will then be directed to the merchant's website through the link on your site and when sold, you will receive the commission. No need to buy, store or deliver anything! The investment for this program will be minimal.
Here is the program I recommend as number 1.
Wealthy Affiliate (WA)
Established in 2005 by two Canadian entrepreneurs this unique program has been growing ever since to become the most popular of its kind. Low investment, the best training, and an enormously strong and helpful community have attracted many newbies as well as professionals. But there are so many features that make them great.
Being a member myself since 2014, I have prepared a full review of the ins and outs of this unique program. You can access this review by clicking here. The review also contains a link with which you can become a member for one week for Free, without any commitments whatsoever. In this way, you can experience the system firsthand.
So folks, will you dare to take this small step and change your life forever? Let me know through the comment section what you think and I will reply within 24 hours. Thanks for your attention.