Introduction
We all have our talents, but they are not always used optimally at work. There are different ways for employees and employers to bring out the best in everyone.
Talent is not just a matter of excelling in a clear task, such as engineering, finance, sales, or leadership. Anyone who
can handle various matters tactfully in the background also has a talent.
And less sexy qualities such as being meticulous, having caution, and attentiveness can be very necessary in organizations, for example at a bank or accountancy that has to cover risks and prevent excesses.
At the end of this article, I will give you the perfect way out of the corporate jungle.
Each one of us has talent
Talent development starts with simply looking at what people can do and what makes them unique. Studies have been done on how employees can let their qualities blossom and enjoy their work more.
Fortunately, employers are increasingly realizing that everyone has talent. Forty to twenty years ago, they mainly focused on a group of high potentials to prepare them for higher management positions. They now know that their organization performs better if they bring out the best in everyone.
I can testify to forty years ago when exactly happened what has been said here, the so-called Hipo's got all the attention. The rest hardly mattered and sort of withered away.
Questionnaire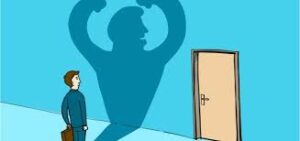 Bringing out the best in everyone sounds great, but what can you do with that as an individual employee? You don't have to wait for your employer to set up a development program to find out your qualities.
Here we point to a scientifically substantiated questionnaire, the Via StrengthsFinder, which you can complete yourself for free. Among other things, a type rolls out: are you an Einstein, a Mother Theresa, or more of a Beyonce? So: is your strength, for example, in original thinking, taking care of the group, or in thinking injustice and connection?
Everyone should map out their universal qualities. In the past year, an expert screened 65 companies, and only 4 percent used this kind of solid instrument. Too bad. Because you may discover that your current work does not bring out your talents at all. You see more clearly in which direction you could develop yourself. Then go to your manager and just ask for a development interview.
Your five fingers technique
There is another trick to clarify priorities. Check your five fingers. Start with your thumb: what's going well? The index finger then: where do you want to go, what will be your next step this week or month? The middle finger means: what are you bummed about? The ring finger points to: what are you loyal to, what is important to you? And the little finger, that's the neglected part. What needs attention? Keep it simple and learn from it in small steps.
Companies that have a good learning culture themselves learn better from mistakes, give people more room for experimentation, and are more innovative. During the crisis, such companies were not affected by the dip. They are not dependent on the market, because they determine the market.
Employers are increasingly realizing that everyone has talent 
Sounds great, but what can you do with that in concrete terms? Some companies are already switching to the anti-hierarchical organizational form of holacracy, devised by Brian Robertson (who explains the core in three minutes, https://www.youtube.com/watch?v=hz3khhOLT5E). Organizations are then completely flat and people operate in self-managing circles around a task (marketing, accounting, communication). Functions disappear, employees are allowed to choose roles per task and take the initiative. This encourages collaboration and offers a lot of room for talent development.
5 Questions to ask yourself before you start job developing
Keep track of exactly what you are doing for one or two weeks and then ask yourself the following questions:
How much time do I spend on which tasks? Which tasks give me energy? Where does my energy go through?

Who are my working relations, my internal and/or external customers? Which contacts give me energy and which don't?

At what moments do I experience my work as meaningful and when not?

At what moments do I get appreciation or not?

What strikes you now and what conclusion can you draw?
And then the recipe becomes simple: do more of what gives you energy and satisfaction and less of what costs you energy.
4 Ways of job developing
Swap tasks or take on another task. A controller who is going to supervise interns can enjoy this and gain appreciation from it. Or a coach who will talk about her work in a blog and who gets a lot of energy from writing.

Work relationships change. A secretary of a consultancy firm who expands customer contact by going along with an advisor in addition to telephone and e-mail contact or by attending an evaluation.

Changing the job perception of your work. A teacher who also sees it as his task to let his students blow off steam and let them come to their senses and thus contribute to the learning climate has more satisfaction and pleasure in his work.

Adjust working hours or workplace. If you change the context of your work, your perception of your job will also change.
Job crafting as team development or team building
Within a team, a 30-degree feedback tool can be the prelude to a task exchange, in which colleagues within a team or department think about the most talent-oriented division of tasks, responsibilities, and authorities. Team development and team building in one.
All of this not for you?

Many people find themselves in dire straits working for a terrible boss or hating the corporate jungle. You can leave but run the chance to encounter another asshole boss or bosses. Why not become your own boss? The internet gives you a full range of possibilities to start your own business. I would like to point you to one of the most popular ventures: becoming an affiliate marketer. I will explain how affiliate marketing works and why everyone can do it with the right help
Affiliate Marketing
You will need to create a website and the program I will be proposing will take care of that. Then you will choose your website niche (a topic you are going to write about). There are millions of niches, but you should pick your topic from one of your hobbies, passions, or interests.
As soon as you have that, you can start building out your website with articles relevant to your niche and with the aim to help people. Subsequently, people will begin visiting your website and as you build further, you can start promoting products relevant to your niche.
You will find these products on the net with various merchants and you will look for the ones with affiliate programs. You apply for their program and as soon as accepted, they will give a link to their products for you to be promoted. Your audience will then be directed to the merchant's website through the link on your site and when sold, you will receive the commission. No need to buy, store or deliver anything! The investment for this program will be minimal.
Here is the program I recommend as number 1.
Wealthy Affiliate (WA)
Established in 2005 by two Canadian entrepreneurs this unique program has been growing ever since to become the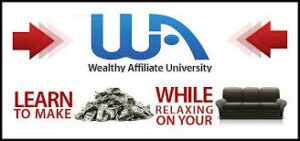 most popular of its kind. Low investment, the best training, and an enormously strong and helpful community have attracted many newbies as well as professionals. But there are so many features that make them great.
Being a member myself since 2014, I have prepared a full review of the ins and outs of this world-class program. You can access this review by clicking here. The review also contains a link with which you can become a member for one week for Free, without any commitments whatsoever. In this way, you can experience the system firsthand.