Introduction
Do you also have a boss whose antennae are more on sending than on receiving, never has time for you, unless you have done something wrong in his eyes? Does he give you a hard time even though the mistake was minor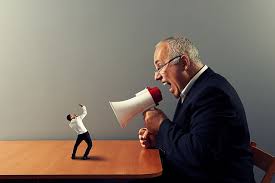 and you never get a compliment if you have done something right?
Actually, you would like to say: my boss is a pain in the ass. There is a good chance that you will go to work with a heavy heart and get more and more stressed out. Waiting for it to pass by itself is not the best solution.
How to do better
In this blog you will discover how you get more rest through a better relationship with your boss. As a result, your job satisfaction could soon return. First I will explain about the reasons you can suffer from work stress from your boss and then you can do the test to find out why you might be stressed.
If you hate your boss or bosses, then I am going to give you a perfect way out at the end of this article. Check it out!
Good boss, bad boss
Because we have to carry out more tasks with fewer and fewer people, we often work long and sometimes spend more time in the office than at home. In such a case it makes sense that you would want to enjoy your work. You want to be useful, work together with nice colleagues, perform well and develop yourself.
In a pleasant working environment, you can handle a lot of work pressure, especially if you are motivated and supported by your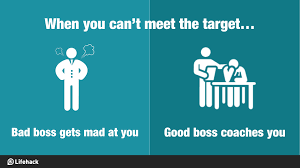 supervisor. But if your boss is mainly concerned with spreadsheets or budgets and does not look much at his employees, you may be hugely bothered by that.
Dealing with people
I will admit that there are some successful companies where they appoint the right person as a manager. Unfortunately, it is still too often the case that you are dealing with a boss who, perhaps professionally, gets the highest score, but scores an absolute zero for dealing with people.
Not to mention the man (also read: woman), who shows dominant behavior and abuse of power, fear and panic, leaving half of the staff reporting ill.
You should determine for yourself what behavior your boss is showing. This might help to do so.
Bad boss behavior 
Just as you can recognize certain weather types within any climate, you can also predict the patterns in your boss's behavior. When does he have a good mood and when does the reverse? Many bosses exhibit derailed behavior when they are under pressure from higher management, they do not want to be criticized if something goes wrong or if they do not meet their targets. They are afraid to get issues with their employees and that is reflected in distrust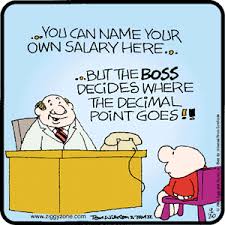 and extreme control of everything you do.
Intended results
Or they threaten not to achieve the intended results and fear their own position within the company. If you ask your boss in that situation, you do not have to expect him to pay a lot of attention to you or listen to you carefully and if he finds out that you are not going to meet your deadlines, chances are it will blow up in your face.
You can also have a boss who is very calm and very deliberate in his decision-making. If he is put under pressure and has no choice but to quickly make a decision, he moves very slowly and wants to get to the bottom of things. This can annoy you very badly.
Bosses also have good sides
Yes, I hear you say, my boss is just like that! Yet most bosses are not too bad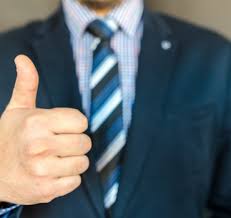 people. They are ordinary men and women with certain weaknesses but they also have their qualities. If you do your very best, maybe you can name a few. Someone who appears to you to be very dominant and stubborn can simply have a strong character and a clear vision.
A boss who does not seem to have any attention to the ups and downs of his employees can have good drive and focus on results. The control freak is often very punctual and has an eye for detail. Is there something already coming to you that you can appreciate in your boss? Try naming three good qualities of your boss.
Pitfalls
The irritating behavior of your boss can, surprisingly, result from a good quality that he uses too much. Suppose he is very self-assured, which could make him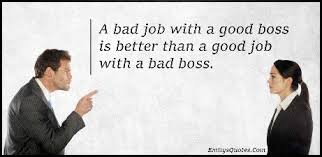 arrogant or he is cautious and thus slow and silent. If you are modest, you may hate someone who behaves arrogantly.
If you especially like to go at it, you get itchy from a boss who has a wait-and-see approach and wants to think about everything first. You are, as it were, allergic to the behavior that someone exhibits when he falls into this pitfall.
When you can analyze the tricky behavior of your boss by reducing his difficult behavior to the excessive use of good quality your allergic reaction to it can be diminished. Determine which pitfall of your boss you are allergic to and how you normally respond to it.
Test here your risk factors
Surprisingly, not everyone with an incapable boss suffers from boss stress. You can have sleepless nights and have red spots on your neck if you think of your boss alone, while your colleagues seemingly do not have an issue and continue working and whistling.
Do the following test and cross the statements that are applicable to you.
A.
If I do something, I'll do it right
I do not give up easily
I like to finish my duties
I deliver my work without error
If I did not work again, I would not know what to do
B.
I like to work according to the rules
I do not take risks
I need clear guidelines
I do not like changes
I am rather unsure about my performance
C.
With me, you can go in all directions
I always stay calm, even though I cook inside
I want people to like me
I hate fighting
The working atmosphere must be good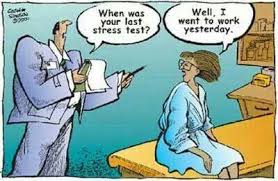 D.
I have a heart for the matter
If I do not do it, no one does it
A deal is a deal
I can handle criticism when it is constructive
If I am right, I want to get it
Results
Now see in which subject you have ticked most of the statements (3 or more) and discover which risk factors you have.
BOX A: You find your work important, you are a go-getter and have perfectionist views.
Risk: Because you set the bar high for yourself, you probably also do this for your boss. It irritates you if it does not meet your strict standards and as a result, you have little respect for him.
BOX B: You like routine tasks and feel good at a familiar workplace.
Risk: New developments and changed procedures make you insecure. You need your boss's approval for all your output. If you have a boss who likes to delegate and expect your own initiative, you do not know what to do and you function less and less. You blame your boss for lack of clarity and you do not understand each other.
BOX C: You are a social person, you like to commit yourself to others and people know that they can always come to you, including your boss.
Risk: You find it difficult to say no and indicate your limits. You want your boss's appreciation for all your hard work. If this does not happen, you will try even harder to get that recognition. Frustrations and exhaustion are the results.
BOX D: You are ambitious and feel responsible for the operating result.
Risk: You make your problem quickly and to solve it all, overtime is the rule for you rather than the exception. You often sit on your boss's chair and feel indispensable. Because of this unclear division of roles, conflicts with your boss are lurking.
Let us know how you came out of this test.
Conclusion + recommendation
After doing this test, I found something about myself, that I had never realized, yet was a big factor in getting stressed by a boss. So, I would advise you, before accusing anybody else, to investigate thoroughly if it is not partly you, who is to blame for work stress.
This said, however, when it is not you, you might be in trouble and in order to protect your position and your health, you will need to take some action. Nothing is worse than having a bad boss and having so over a period of time. Irritations, frustrations, pure annoyance or worse might sneak in and before you know it, your health can be affected.
Choose to be your own boss!
Yes, you can change jobs or companies, but who says that you will not encounter an asshole boss again. In order to avoid all that, you could become your own boss by having your own internet company. You might say, that is not for me, but the possibilities out there are numerous and for everyone. Just find the right program to support you. I have written an article of such a program, probably the best in the world and if you are interested, you can access it through the image just above.