Short review
Name: Earn Easy Commissions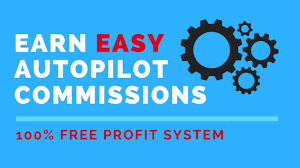 Website: https://earneasycommissions.com/landing/free/ 
Owner: Chuck Nguyen
Fees: From free to $1000 entry fees
Rating: 11/100
Introduction
Here is another product review of the many opportunities that the internet will offer you. I have not been a part of this program and never will be. I have checked their website though and various reviews. In this article I will explain, why this program has such an abysmal rating and I will conclude with my number 1 recommendation of the most trustworthy program there is nowadays.
Introduction to Earn Easy Commissions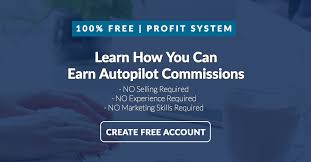 This is another one of these DFY systems, done for you, where it is claimed that 99% of the work is done by them. They want you to sign-up in three steps and promote their system on your website through a link they will provide you.
They will also provide you with the website and some training. The only thing you need to do is get traffic to your site, which is of course the most important task for any would-be and or professional affiliate marketer.
Their website
Like with so many other sites like these there really is only one page, their home page, which contains the information they want to give you. Although the top side menu leads you to believe there are more pages, they all link to the homepage.
No talk of cost
It does not talk of any fees, upsells or cost whatsoever. In fact, it is totally geared to having you sign up for a free account. The video informs you that you do not need to build a website, you do not need training (even being a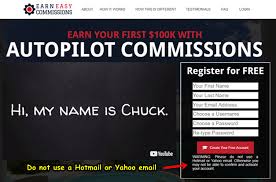 complete newbie), no selling and do not need to publish blogs. The reason is simple: they do everything for you because everything else is old-style affiliate marketing. 
High earnings
Good old Chuck claims he has invested hundreds of thousands of dollars in his automated selling system and he simply wants you and me to profit from it for free. He further claims that everybody who signed up made $100K within twelve months. Now I am asking you, dear readers, which entrepreneur in his right mind is not looking for a return of his money invested?
How Earning Easy Commissions works
There is a website header 'how it works', but the definition of 'it' is lacking. Though it might imply the system or program offered, I can tell you it definitely does not. It refers to how they get you into their program, by following a simple 3 step procedure:
create your free account, confirm by e-mail (yahoo and Hotmail not accepted)

set up your auto-pilot money making system (your automated selling system)

start earning easily done commissions
There are three different ways to earn with this Program.
Free membership

Pro membership

VIP partnership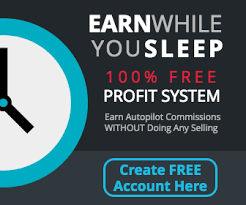 You can sign up for this Earn Easy Commissions as a free member and earn $1 for every qualified lead. As a free member, you will not be able to build an email list and the system will not be able to send out automated emails to your prospects. So you are on your own and you will miss the opportunity of recurring commissions from Getresponse and Click Magic. 
Need auto-responder
To become a Pro member you need to create a Getresponse and Click Magic account. This will cost you a minimum of $32 per month. In Pro member, you will get all the benefits of a free member and you will get monthly recurring commissions from Getresponse and Click magic.
If anybody signs up to Earn Easy Commissions and creates accounts in Getresponse and Click Magic, they will be your referrals and you will earn monthly recurring commissions for a lifetime. Click Magic pays 100% commission in the first month then 35% onward. Getresponse pays 33% monthly commissions. 
You can also sign up for the VIP partnered affiliate system. It will cost you $750 (one-time payment) or $100 per month for a year. Payouts will be higher for this one.
And while we are at it, why not join the zero to $10K project just introduced this year. Here it is.
The zero to $10K project
Just smack in the middle of the homepage is the announcement of a brand new project. Forget about the $100K a year, this is really it, a three-pronged approach to the business.
First of all, there will be daily videos by our old chap Chuck, gradually revealing how he is growing a business from the ground.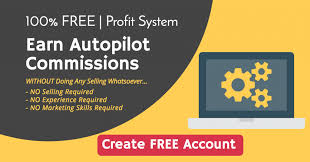 No skills?
Secondly, there are no skills required. All you need to do is watch the videos, follow along and copy exactly what Chuck is doing to earn easy money. I think the catch is in the word exactly, because how are you going to do that?
Third: Under the heading of 10 times your income, Chuck, there he is again, will show you how he creates $10,000 with a starting budget of less than $1k. Without using any of his connections, from scratch so to speak. In my opinion, whilst he was doing everything for free, he is now changing his story and telling us that we have to invest some $1000.
What else can you do to earn money?
Your only job is to simply drive traffic to your "Unique System Link". And if you have no idea how to do this, don't worry because all you need to do is follow along with Chuck's "$0 to $10K Project". This is where he shows you day-by-day what he would do to drive traffic if he was a complete beginner with zero experience and zero budget. Can you say that again? Zero budget?
And we have just seen it was implied that you need to invest some $1000 to start that program, so this appears to be contradictory at least, a pertinent lie at most.
Final thoughts
As you have undoubtedly gathered from the above I am not very much impressed with Ear Easy Commissions' w
ebsite, which only contains one page, although looking at the top of their page they lead you to believe that there is much more. Not so!
The whole idea of this one page and the only intention is getting you to sign up into the program, which allegedly is for free. However, as soon as you sign up, you will see that you actually cannot do very much, and earnings (if any) will be low. In order to remedy that situation, you will be asked to invest. 
Immediate earnings
The promise is that you will immediately start making money with their unique automated selling system, whilst they do all the work for you, well 99% of it, they say. Up to $100K a year, by virtually doing nothing. I have never seen such a crock of shit and anybody in his right mind should avoid this program.
Need to drive traffic
Oh yes, the only thing you need to do is to drive traffic to your site, which happens to be the hardest part of the affiliate business. This will take a lot of time and effort and I have not seen anywhere, how they are going to teach you all of that.
You will not be surprised that my conclusion is that everybody should stay far away from this 'wonderful' opportunity, consequently my rating is very low.
Really want to go into affiliate marketing?
All you need to do is find the right program. What is the right program? It is one that is scam-free, reasonably priced, excellent training and guidance the whole way, a website within hours, hosting, SEO and a professional community that will respond to your questions within hours, also on weekends.
One of these programs and maybe the best in its kind, is called Wealthy Affiliate (WA), which was established in 2005. I am a member since late 2014 and if you have become interested, you can read my full review of WA here. Through this review, you will have the option to sign up with WA for one week for FREE and just see for yourself what it is all about.

Thanks for your attention and if you have any questions, please fill the comment box and I will be back to you within 24 hours.