Introduction
Have you seen this happening in your surroundings? Candidates who enthusiastically go through the application process, employees who still work with great passion within the company after years, or former employees who express their satisfaction to outsiders as ambassadors. What is going on here?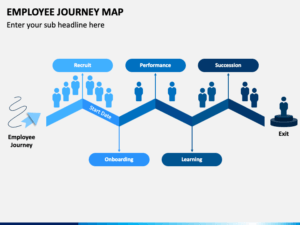 Well, something that we have all been waiting or hoping for, for a long time: The philosophy 'if your employees are happy, your customers are happier' is increasingly being discovered by companies. If you maintain satisfaction among your employees, it will only lead to more success and profit.
Moreover, you attract new talents to your company faster because of the good reputation. And the latter is certainly not wrong in this scarcity of talent in the tight labor market. Mapping the employee journey can help maintain employee satisfaction and the company a success.
Employee journey meaning
The employee journey concerns the journey that employees take within an organization; from the first contact moment that someone comes for a job interview until the moment that the person signs a contract and after. All contact moments between the organization and the employees are central to this. The employee journey offers employers insights into the experience of employees. These contact moments are also referred to as the employee journey touchpoints. More about this later.
Why is the employee journey so important?
Companies are becoming increasingly aware of the importance of positive employee experiences. After all, if employees experience their work positively, this results in more success for companies. This is because employees who experience stress or no pleasure in their work also perform less well and cannot deliver the best results. This indicates how important happy employees are to companies and that an employee journey map can contribute to this. 
In a recent poll, more than half of employees said that they're not really engaged with their work, and 13% said they're actively disengaged—which means they're having miserable work experiences and spreading their unhappiness to their colleagues. A well-designed journey map can help you find areas that need improvement and boost the employee experience. Why is employee experience so important? Because a positive experience can increase engagement and lead to higher retention rates, greater productivity, lower recruiting costs, and better customer service.
In practice this means…..
 Your employee journey map can provide a unique way to depict your company's goals, values, and processes. The best employee experiences bring the company's values to life and help build a strong culture. A distinctive culture can help a company attract talent that will fit in and thrive within its work environment.
For example, if a company prides itself on automation and technology, then the workplace should use the latest tech for innovative and efficient business processes. This will help employees better relate to customers and strengthen the company's brand and reputation in the marketplace.
5 Steps to map an employee journey
You can map the entire employee journey or focus on a specific troublesome section. For example, if high turnover is a problem in the first year, you may want to start by mapping the first few stages of the journey.
Here are five steps to building your employee journey map:
Research into your employees. 

Develop individual employee profiles. 

Identify stages/moments that matter to each persona. 

Visualize the journey from the employees' point of view. 

Smooth out the bumps in the road along the employee's journey. 
Measuring the Employee Experience Journey
Ask employees how they feel about their experiences. Conduct employee engagement surveys or simply send emails to gauge employee sentiments, especially during moments that matter. For example, you may want to check on new staff members after their first few weeks to see how they are feeling about their new position.
As you collect more quantitative data, you can compare how the employee experience correlates with employee experience key performance indicators (KPIs) such as offer acceptance rates, productivity, engagement, absences, and turnover. And implement changes based on the data and feedback you receive.
Mapping the employee journey map with touchpoints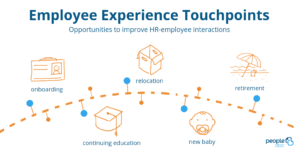 Simply put, employee journey mapping provides a visual representation of the path that employees take within your organization. It focuses specifically on the most important moments, such as the first meeting between employer and employee, the onboarding process, or the joint celebration of holidays. 
Mapping these important moments in an employer journey map and also testing this with employees helps to understand and improve the employee experience consistently. You can use the employee journey model to map the experience of employees. There is also a standard employee journey template that can be filled in for this. More information about this? Then the employee journey book is definitely recommended for this.
Which points to insert in the employee journey?
Although every employee experiences the employee journey within a company differently, there are a number of important moments that occur in almost all employee journeys. These employee journey touchpoints are as follows:
The first conversation between employer and employee
The first working day
The first conversation with the manager of a company
The first assessment interview
The first progress meeting
An employee's birthday or other details
A conversation about leaving the company
Do you want to ensure an optimal employee experience within your company? Use an employee journey map to map all touchpoints with your employees. The result? Happy employees, positive stories about your company, and more success!
Your situation might be different
So, dear reader, do you recognize this happening in any sort of form in your organization? Or is it simply not there or you do not care at all? Maybe you are expecting too much from your employer, as it will cost some effort to do this. Not by your boss but by HR of course, for whom this should already be a given and one of their better personnel tools.
However, I know that in many cases, HR is not picking this up. In such a case, what are you going to do? You can ask them, but when it is not within their tasks, getting them to do it might be impossible to accomplish.
Change your career?
For some of us, it would be easy to look and find another job, but for most of the rest, this is not that simple. Of course, you can stay with your company, if your situation is ok or not that bad. I am going to give strong advice to the people who feel unhappy with their current work and do not really know what to do about it. Become an internet marketer, simultaneously with your job or full-time! Here is my description of a unique and possibly life-changing proposal.
Affiliate Marketing
You will need to create a website and the program I will be proposing will take care of that. Then you will choose your website niche (a topic you are going to write about). There are millions of niches, but you should pick your topic from one of your hobbies, passions, or interests.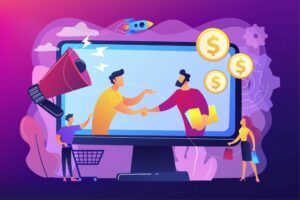 As soon as you have that, you can start building out your website with articles relevant to your niche and with the aim to help people. Subsequently, people will begin visiting your website and as you build further, you can start promoting products relevant to your niche.
You will find these products on the net with various merchants and you will look for the ones with affiliate programs. You apply for their program and as soon as accepted, they will give you a link to their products for you to be promoted. Your audience will then be directed to the merchant's website through the link on your site and when sold, you will receive the commission. No need to buy, store or deliver anything! The investment for this program will be minimal.
Here is the program I recommend as number 1.
Wealthy Affiliate (WA)
Established in 2005 by two Canadian entrepreneurs this unique program has been growing ever since to become the most popular of its kind. Low investment, the best training, and an enormously strong and helpful community have attracted many newbies as well as professionals. But there are so many features that make them great.
Being a member myself since 2014, I have prepared a full review of the ins and outs of this world-class program. You can access this review by clicking here. The review also contains a link with which you can become a member for one week for Free, without any commitments whatsoever. In this way, you can experience the system firsthand.