Introduction
The Peter Principle is a law in the field of organisational science, formulated in 1969 by Dr. Laurence J. Peter, which aims to explain the poor functioning of
many organisations. Although the principle must be taken with a grain of salt, it is not far off from reality at all. In every organisation you encounter this phenomenon: An employee performs well and has a good career. He gets promoted several times, until he suddenly no longer performs well. It seems like a kind of law … and it is!
4 Tips
Read more and I will tell you what I know about the Peter Principle. I will also give you 4 effective tips to avoid getting into this situation. As a bonus I will give you my best recommendation for staying out of trouble at work.
So, what is the Peter principle?
Why in God's name is it that an employee ends up in a place where he no longer performs? 
Believe it or not, but the Peter Principle works this way: An employee functions well and is successful. As a result, he is eligible for a promotion. For example, the sales guy becomes a sales manager. If this function is also satisfactorily fulfilled, he will be promoted again. The sales manager becomes a sales director etc.
Competences
What companies tend to forget is that at an ever higher level other competences are required. What they effectively are doing is selecting a candidate for a position based on the candidate's performance in their current role, rather than on abilities relevant to the intended role. Peter noted that there is a strong temptation for people to use what has worked before, even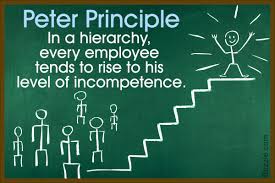 when this might not be suitable for the current situation.
Bad for company
At a certain point in time, it appears that the employee does not possess these competences sufficiently, which means that successive promotions stop. End result: He is in a position for which he is incompetent and he does not perform anymore. This to the detriment of the company.
Peter states that if this process goes on long enough, each employee is in theory in his 'level of incompetence'. Ultimately, if all employees in a hierarchy have reached this level, the amount of useful work done is zero, according to Peter.
A few examples
Here are some practical examples of what can happen in those situations:
An experienced head engineer is unable to provide situational guidance to his team members in his new role as team leader

A great commercial manager does not appear to have the interpersonal skills in his new role as commercial director

An excellent workman does not have the necessary helicopter view afterwards for the role of project leader

A successful salesperson does not appear to have the right coaching skills to manage his sales team as sales manager
Promotions failure
Sometimes you hear managers sigh after a failed promotion: "I promoted a good professional and I have a bad team leader in return …". Why do unsuitable people get a promotion anyway? This is because the successes achieved in their previous position are often more decisive than their suitability for the new job. You also often hear "that it is now his turn for promotion …"
How to avoid these unwanted work situations
The Peter Principle can easily be prevented. Before you decide to give someone a higher position, you can use different strategies to build-in the necessary care:
Assessing the candidate: you first test the candidate for the competencies that are necessary for the new job (this can involve behavior, managerial skills, emotional intelligence, etc.).
Important project: You give the candidate a significant project in which he can show exactly the skills needed for his intended promotion. Afterwards you jointly evaluate its performance and decide on possible promotion.
Replacement: You allow the candidate to serve in the new function for a longer period of time (for example during the holidays of his superior). You communicate this openly to all involved and evaluate after the period if promotion will be successful.
Trial and run: You promote the candidate within a trial period. He then functions fully in his new role and receives necessary guidance and coaching. In the meantime, you evaluate regularly on the basis of previously agreed criteria. Only final promotion (and salary adjustment) will follow after a successful trial period. This strategy is suitable if you are already quite convinced of their suitability for the job.
Could someone be more competent at a higher-level job?
Yes, of course they can and this is where the Peter Principle is not applicable. The general assumption is that management requires a higher level of competence than line employees, but in reality, it requires a set of different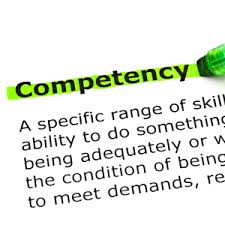 competences than an individual contributor role.
Training
Nowadays, a person can be trained and be more competent as a manager than as a line employee. Technology became so complicated that no single manager could be an expert in all facets of a project. A manager has to rely on the technical expertise of many individual contributors.
Many skills
At the same time, a manager must have such diverse skills as coaching, motivating, inspiring, and other soft skills that an individual contributor may not need to have, at least not at the level required from a manager. The beauty is that, as a result, a person can be more competent at a higher position than at a lower one. Even as the top man. This is completely contrary to the premise of the Peter Principle and does give hope for the future.
Final thoughts
Of course, the Peter Principle is mainly the product of a bureaucratic organisation. Whichever strategy you choose, ensure transparency. The expectations and evaluation criteria must be clear to all concerned. Because what the Peter Principle does not take into account, is that people can certainly develop and learn new competences. It would be a waste of time and money to ignore this possibility.
Best recommendation
I can imagine that you do not like to wait for the future or want to leave the hustle and bustle of companies or having your number so many of lousy bosses. You would like to have your own business, become your own boss, work from home or all three combined. I can tell you that this is possible at this very moment, no need to wait for anything. You can even start doing this in combination with a regular job.
Prepare an escape route
What I am proposing is that you start your own internet business, scam free and at a very reasonable price, by joining Wealthy Affiliate (WA), the world's best internet business support program. Join free for one week through my link below and you will have a website within minutes, after which you can begin your journey to a successful business of your own. Join a fast growing community, established in 2005, and reap the benefits of the best training you can get 24/7.
I joined myself in late 2014 and I have written a full review of WA, which you can access by clicking here. In case you are interested to experience this unique opportunity as well you can become a member by clicking the link in my review. Any questions you may have right now, please feel free to leave them in the comment box and I will come back to you within 24 hours.