Short review
Company: Legit Online Jobs
Website: legitonlinejobs.com
Owner: Not specified
One time fee: $35, temporarily discounted from $70 
Rating: 5/100
Introduction
I would like to warn you of another barely workable online so-called money-making system, see full review below. I have not been a member and never will be. This review is based on the website content and research of other reviews.
If you would really like a scam-free money-making opportunity, then read my personal view here.
What is Legit Online Jobs
This is their introduction on their About us page: "Legit Online Jobs has been
established to provide people from around the world with the most popular and rewarding work at home opportunities available on the web today.
We at Legit Online Jobs saw a need for a one-stop resource of work at home information. After noticing countless work-at-home scams on the internet charging fees for all types of nothing burgers, we decided to provide you with one website where you can access all legitimate opportunities and real jobs for one nominal fee."
How does it work?
They explain this as follows: "Companies worldwide are desperately searching for people just like you to type up their ads and post them online, and they'll pay you nicely in return. They get more customers, you get paid. These companies have cash, lots of it and they're eager to share it with you. All types of individuals around the world are using this system to make more money than they ever could working for an annoying boss. You can spend as much time as you want, it's all up to you."
Big companies?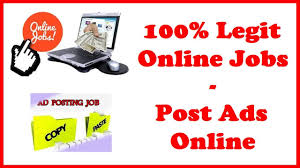 I beg your pardon! He wants us to believe that there are a number of big companies all over the world just waiting to pay us money? Just for putting an advertising link in a blog? I would think that especially big companies will have an advertising budget big enough not to have to rely on some amateur affiliate hobbling along.
And not all of the companies will even have an affiliate program. Why would one of the biggest companies in the world, Google, need us to advertise for them?
This is also a far cry from being the one-stop source for all work-at-home jobs information.
Their website
The website homepage starts with the story of an unemployed dad who went from nothing to earning some $9000 per month working online. His story
ends with the fact that, after searching the internet in vain for a long time, he finally came to find something that worked. He does not tell us what is was, nor does he tell you what he did, how he did it, and how much time it took.
General narrative
In fact, his story could be incorporated in almost every similar advertising program, because it is one big generalization. I guess that the creator of this website wanted to imply that our 'incredibly successful dad' did it through Legit Online Jobs, but this is not substantiated anywhere in the text.
How to get started?
They claim that all you need to get started is your computer and internet access. You'll be posting short text ads for companies and submitting them into various online forms. No prior skills or work experience is required, just basic computer skills. If you are a committed individual and think you can put in an hour or two per day submitting these ads, we want you on board! What this tells me is that you do not need any training, you will do a little posting and when you do it enough, you could be making $9000 in a month.
Here is the set-up and 3 step plan:
Step 1: Create an account

Step 2: Choose companies

Step 3: Start posting
They say that they will give you anything to get started, including some sample info that supposedly should be copied and pasted into the forms. I would say, this cannot be much as the one-time fee is only $35.
Commitment
They are then emphasizing that you can effectuate the posting in your own time, at your own pace, with absolutely no restrictions. The money-making potential is unlimited and once you have started, the program will virtually run on auto-pilot. They are then implying that you do not need to be at your computer all day. They call this commitment!
Your earnings, if any
The website then produces a large piece of information about possible earnings. Our allegedly successful dad is back with a screenshot of his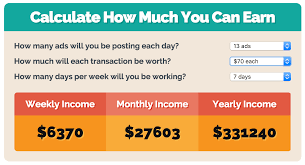 accounts, which has been heavily redacted to delete anything of real value to us, but he calls it proof the system works. He goes on to say that every one of those companies always pays the bills, never pays late, so would never have to worry about your money. You also will get paid in any sort or manner you wish.
Popular?
But you see, this is such a unique opportunity, you have to subscribe now, today! These kinds of tactics, this one, and the discounted one-time fee, are always a sure sign that something is amiss. They want you to believe that so many people are signing up, but that there are only limited places available.
All this just smells fishy.
Legit Online Jobs changes your life
At least that is what they want you to believe. What that comes down to is listing the advantages of working from home, no words about the work to be done. They even give you a calculator where you can discover how much you can earn, the basis of which is totally missing. Then out of nowhere, they give you three bonuses: real online jobs, making money doing surveys, and making money on E-bay. If I am going to buy and sell on E-bay, I will go straight to E-bay. Why would I have to go through Legit Online Jobs?
One on one coaching
Then there is the promise of the one-on-one coaching program. You will have a personal teacher who will be with you every step of the way. I do not believe for one minute that this is true. The hourly fee of a personal tutor could already be 10 times the entry fee. If I had ever seen an empty promise, then this is the one.
How do they get away with this?
This is very simple because they have an earnings disclaimer. Here is this beauty: 'Every effort has been made to accurately represent this product and its potential. Even though this industry is one of the few where one can write their own check in terms of earnings, there is no guarantee that you will earn any money using the techniques and ideas in these materials.'
After all the beautiful words, promises of riches at minimum efforts, they finally come with the truth. You will not find this on their homepage, but need to click the small print at the bottom. They also finally admit that: Success in ANY money-making opportunity is a result of hard work, time and a variety of other factors.
Final thoughts + my number 1 recommendation
This Legit Online Jobs website is misleading, our successful dad might have made the money with them, but then again, maybe not.
It is contradictory: they promise riches, next they say you might earn nothing; they claim that 1-2 hours work per day is a commitment, but then say it takes a huge effort.
It is confusing because it mentions you need to fill in forms with ads, then go on to talk about all working from home jobs.
It gives a lot of non-information and a lot of essential information is not there. The big question: 'what do I get for my money?', has not been sufficiently answered.
Affiliate marketing
If filling out forms with ads is to do the trick, how is that going to happen? In affiliate marketing, you need to carefully build a website and fill it with quality content to have any chance at attracting an audience. This would take at least months, but probably over a year of hard work, training and the right support.
I happen to know the best program in the world to realize a successful internet business: Wealthy Affiliate (WA), established in 2005, scam-free, professional and reasonably priced. Read all about this unique, once-in-a-lifetime opportunity, in my full review here.
If you have any questions, please leave them in the comment box and I will respond within 24 hours.