Introduction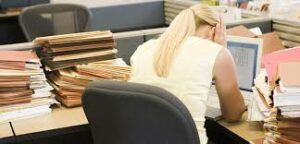 Fortunately, a lot of people in this world, when going to work,  like to roll up their sleeves. They work hard every day and do so with some pleasure, satisfied that they have achieved something. However, there are limits for every one of us.
If you have to do more than you can handle on a permanent basis, it will become important to intervene – before you have burnout. In this article, I will talk to you about what to do if you experience too much work pressure and give you 5 tips.
Feeling always stressed out? Then you are maybe not fit for the corporate jungle and need to change. Check out my escape plan for you at the end of this article.
When is work stress a problem?
Too high a workload arises if you cannot meet the requirements in your work over a long period of time. For example, if you do not have enough time to do your work at a normal pace. Or the planning in your company is not in order. Also, you may have difficult customers to deal with. Or the atmosphere at work is bad (due to bullying or a bad manager). When more colleagues suffer from high work pressure, absenteeism increases. And the chance of industrial accidents increases. This obviously is a problem.
Causes of work pressure
Here are some causes of work stress, also click here. All too often, employers want you to "not have a 9 to 5 mindset." Understandably, continuing a little longer so that a project is even better dealt with, or a customer just that little bit more satisfied, that makes both you and your boss happier. But it shouldn't become a habit.
If you regularly work evenings, weekends, or during your lunch break to get things done, then there is clearly something wrong. So, here are 5 important things you can do to relieve work stress.

1. Recognize and acknowledge
It is one thing to feel that you are constantly working harder than you would like, it is another to recognize that this is a problem. Because that feels like admitting that you can't handle something, like a failure. Nevertheless, it is important never to stop an excessive workload. Take your feelings seriously and do something about them. For instance, ask your colleagues if they also suffer from high work pressure. You are stronger together. 
Otherwise, you will no longer be able to cope with work and you will end up with stress symptoms or even burnout at home.

2. Read to become wiser
You are of course not the only one who feels too much work pressure, that alone should make you feel better. Even better is that many books and articles have been written on the subject.
This not only teaches you to analyze yourself (perhaps you are one of those people who can never say no) but also how you can seek support from a counselor within the organization and – very important – what your rights are.
The internet contains loads of information that you can learn from as well, you can also search for contact groups.
3. Dividing energy
If you regularly run out of time to complete your tasks, you tend to think that there are too few hours in a day. But you may just be getting too much work on your plate. Working longer or harder seems to be the solution, but not always and certainly not over a prolonged period of time. But you can also investigate how you could better distribute your energy over the week because there is often more profit to be made there. A person only has so much energy, you have to take care of it.
I can confirm that this energy thing is for real and my point of view is to spend it wisely and on positive matters only.
4. Go and talk to your boss
It might be a bigger barrier than admitting it to yourself: tell your boss you're struggling with the workload. Will it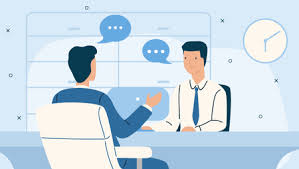 soon have consequences for your evaluation interview? Will you be passed over for that promotion? Either way, raise the issue because if you continue with it, it will come to light in a negative way. Then you will perform less, make mistakes, report sick, and your manager will ask why.
Better to be ahead of that. Prepare your conversation well first, substantiate your complaints and consider in advance how you can solve the problem together, for example by transferring tasks or by rearranging your schedule.
Try to put yourself in the shoes of your employer. What objections can he have? Remember that too much work pressure is also his problem. You will not get your work done and it will eventually make you sick. Your employer is legally obliged to solve problems with work pressure. Make it clear that you are looking for a solution that is good for both of you.
Your employer is even obliged to prevent too much work pressure.
5. Restore the balance
You have read everything, talked about it with friends and colleagues, but you still walk around with a rushed feeling, heart palpitations, or you sleep badly. So, you still have stress. This could be the gateway to burnout and therefore it decides the moment to tackle your workload problem even more thoroughly.
A psychologist or stress coach can not only understand your problem better but also help make a plan of action. In this way, you restore the balance between stress and relaxation in your life, and you can get back to work better.
Final thoughts
Do not influence your health adversely by having stress, no boss is worth it!
I would strongly recommend you to do everything in your power to avoid stress at work or any form of stress. The best way to do so is to be aware of it coming. Pay some attention to the stress factors given or the ones that give you stress. Do not put your head in the sand!
You did not see it coming? The above 5 tips may help you to deal with too much pressure. Take action and when you might have an understanding boss, chances are that you will successfully deal with it. He might even apologize that he did not see it before.
But what if you find out that you do not like bosses anyway or a 9-5 job or have annoying colleagues all the time? In that case, my following escape route is just for you.
Your very own E

scape Route
It is something all workers for a boss should have at all times. A kind of failsafe for bad times to come: start your own business with the help of the internet and become your own boss. Anyone of us can do it, you just need to be told how.
The internet contains a ton of possibilities, yet you need to find the best, honest and scam-free options. I can help you in the right direction and point you to the best internet business support program right now. One of the most popular business models is affiliate marketing. I will now explain in short how this works.
Affiliate Marketing
You will need to create a website and the program I will be proposing will take care of that. Then you will choose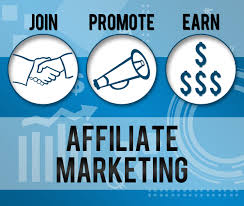 your website niche (a topic you are going to write about). There are millions of niches, but you should pick your topic from one of your hobbies, passions, or interests.
As soon as you have that, you can start building out your website with articles relevant to your niche and with the aim to help people. Subsequently, people will begin visiting your website and as you build further, you can start promoting products relevant to your niche.
You will find these products on the net with various merchants and you will look for the ones with affiliate programs. You apply for their program and as soon as accepted, they will give a link to their products for you to be promoted. Your audience will then be directed to the merchant's website through the link on your site and when sold, you will receive the commission. No need to buy, store or deliver anything! The investment will be minimal.
Here is the program I recommend as number 1.
Wealthy Affiliate (WA)
Established in 2005 by two Canadian entrepreneurs this unique program has been growing ever since to become the most popular of its kind. Low investment, the best training, and an enormously strong and helpful community have attracted many newbies as well as professionals. But there are so many features that make them great.
Being a member myself since 2014, I have prepared a full review of the ins and outs of this unique program. You can access this review by clicking here. The review also contains a link with which you can become a member for one week for Free, without any commitments whatsoever. In this way, you can experience the system firsthand.
Will you dare to take this small step and change your life forever? Let me know through the comment section what you think and I will reply within 24 hours. Thanks for your attention.