Introduction
Do you ever ask yourself the question whether you are still happy at work? Your body signal's can tell you more as it has probably known that for a long time. Everyone has headaches, but if you always get it for that one meeting, then there is more going on. If you learn to listen better to physical signals, you discover that your body is wiser than you realize.
Not feeling good?
Palpitations and sweaty palms for an exciting presentation, that doesn't sound illogical. If that also happens on a normal office day, then it is time to listen to your body signals. Your body often responds to situations before you realize it. Why wouldn't you use that knowledge of your heart and lower abdomen?
Listen to body signs
I would like to make a stand here for listening to your body signs. Our body is so wise, but most people are no longer used to listening to it and, indeed, to act on it. We live so much in our head, in our ratio, that we seem to have forgotten that there is more. Read on and find out how it works and if you really are happy at work.
Not so happy at work? May I suggest a wonderful alternative? Please check out the last paragraph and become your own boss!
Suppressing emotions
We are so used to ignoring the signals from our body that, if we are in pain somewhere, we take a paracetamol and just continue with what we were doing. If an emotion arises, we push it away, because that doesn't fit right there.
However, if there are signals from your body, your body wants to tell you something. Maybe that one little jolt wants to tell you that you should take it easy. Maybe that emotion wants to tell you that there are still some unprocessed issues waiting for you. By suppressing the signals and emotions, you often make things worse.
Aches and emotions
When your body hurts somewhere, that is a signal. If you do not rest at such a moment, but continue in the highest gear, your body cannot start to clear up the cause of the pain. Your immune system only works from rest.
Working hard
Because you create a lot of adrenaline, when you are working so hard, you often do not feel what is going on in your body. Your body shields the signals, so to speak, so that you can continue. But the signal is there. When you take a break, you will feel that you are in pain. Once you feel that, do not go even harder, but get more rest so that your body can recover.
Suppressing emotions dangerous
The same goes for emotions. If you suppress emotions, they will come back extra hard later. An emotion wants to be felt. As soon as it is felt and processed, it dissolves. So do not avoid your emotions, but allow them. Investigate why you feel that way. Often emotions have to do with your own beliefs about something, or is it something you are processing. View where your emotion comes from and then release it.
Body wisdom
A psychologist wrote a book called: Inside you know everything – Handbook for body wisdom. It distinguishes three zones with which we perceive the world. With the zone of the head we look ahead and we work purposefully. The zone of the heart helps us to feel what we and others need. With the third zone, that of the abdomen, we observe very sensibly whether something is tasty or fine, also related to previous experiences.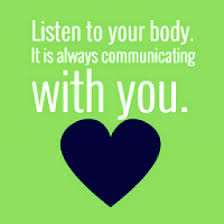 Imagine what happens if you systematically ignore the last two observation systems, and trust and respond primarily to your head. It seems tough to ignore your headache and keep going, but then stress or even a burnout lurk.
Responding to stimuli at work
Listening to the signals from our body is therefore much more important than we think. We see ourselves as thinking creatures; we have brought the technology to a great height. But physically not much has changed in us. In fact we still walk around like wild animals in the jungle. There are all sorts of incentives, and we have responses to that. 
Be aware
We do not realize with our head, but our body has often responded to the situation for a long time. That goes through the two nervous systems that we have: the parasympathetic, which regulates rest and relaxation, and the sympathetic, which is related to fleeing or fighting. We scan every situation in our body: is there danger, do I have to do something? Or is it safe and can I survive here?
In the jungle?
Our body may be in the jungle, but the danger is no longer a tiger with long teeth. That is why we take that body less seriously. The modern dangers are, for example, a poor assessment of a manager, an exciting presentation, or an overly full agenda. Not immediately life threatening, but stressful.
Fight or flight?
Our body still responds with a fight or flight response. With a sudden rise in adrenaline. In addition, imagine that we have to process much more incentives than twenty years ago, while our parasympathetic nervous system of rest and relaxation is the same. Your body has known for a long time whether you are happy in your work. That way you listen better to physical signals.
Tightened shoulders
In short: the balance is lost. We sometimes do not even notice if we are typing with cramped shoulders, or are preparing an important meeting with increased breathing.
It makes sense to practice, and to use the knowledge of your body to your advantage. What do you notice in your chest or abdomen when you think of a certain assignment? And if you have doubts about something: at which option do you feel your throat tighten, or most of the room in your chest?
Men and women
Maybe it's surprising, but it is noticed that men can feel very unwell. Women are more socialized and then they are busy with what their head needs. But there is nothing as earthly as that body. Everyone can do it. The only thing that is needed is the willingness to listen to your body. 
Final thoughts
When you want to know whether you are happy in your work, listen to the signs that your body gives. Have a headache at work on a regular basis? Your body is protesting and giving a signal that something is not right. You better find out what it is. Not listening to your body can mean a decreasing health, both mentally and physically. No place of work is worth it to let your be adversely affected, it might be irreversible sometimes. So …
Change your life here!
Taking action is the operational word here. Find the cause and do something about it, even if you would have to leave that company. Who knows something good might arise from it, like for example start becoming your own boss. This is nowadays very much possible with the aid of the internet. Want to see how this could work? Read here my review on the world's best internet business support program. A chance of a life time!